Studio B has been completely renovated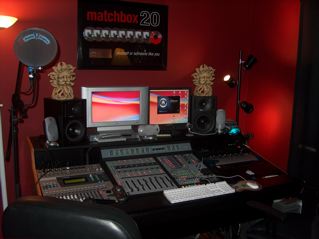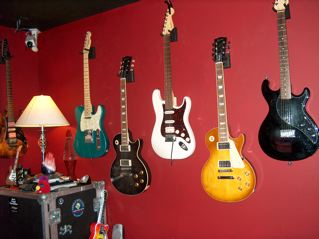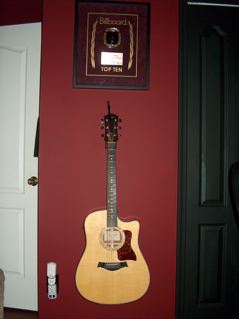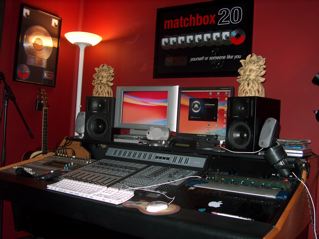 Studio B is based around the Digidesign Pro Tools 8 |HD 3 Core System, 96 I/O, 888|24 I/O, ProControl surface, Yamaha 01/V Digital Mixer, and Genelec monitors. See our equipment list below for complete details.

(please note, photos do not depict current configuration)

Click and drag on pic below with mouse for virtual tour of Studio B:

Shift= Zoom In Crtl= Zoom Out

Features the Digidesign Mbox with Apple G5 Macintosh computer systems, Tannoy Reveal Active monitors, and a compliment of drives and enclosures.
Studio B Equipment
Studio B
Protools 8 HD3
(1) 888|24 Digidesign I/O
(1) Digidesign 96 I/O
(1) Digidesign ProControl
(1) Toshiba DVD Audio player
(1) Samsung 17" flat-panel displays
(1) Yamaha 01V Digital Mixer
(1) Apple Power Macintosh G5 dual 2.0 ghz
(2) Genelec Powered Studio Monitors
(2) 120 Gig Firewire HD
(1) Argosy Console
Microphones
(1) NeumannU89
( 1 ) Audio Technica 3035
(1)Neumann TLM103
(1) Baby Bottle Blue
(1) AKG Solid Tube
(3) Senheisser 504
(2) Senheisser 421
(2) Neumann KM184
(1) Audio Technica 4050
(1) AKG D112
(1) AKG 414
(1) AKG C3000
(2) Shure SM57
(3) AKG Dynamic Mics
4 Vintech dual 72 Mics
Universal Audio LA-610
Instruments
Yamaha C1 Baby Grand Piano w/MIDI
Kurzweil K2600X 88 Weighted Keys
Korg Triton
Virus Indigo / Sampletank / Reason
1960's Ludwig Drum kit
Gibson Les Paul Standard
Gibson Class 5
Fender American Stratocaster
Fender Custom Stratocaster
Fender American Telecaster
Taylor 510 CE acoustic
Fender Jazz Bass
Ibanez TR series Bass
Ibanez Jem 777
Washburn Les Paul
Kramer Voyager
Ovation Acoustic
Amplification
Marshall JCM 800 100 watt
VOX AC30
Mesa Boogie Dual Rectifier
Line 6 combo
Roland JC 120
Amp Farm
Software/Plug-Ins
Digidesign Pro Tools 8 HD
Digidesign Pro Tools 8 LE
SONY Oxford
Autotune 6
GML EQ
Altiverb
Eventide
AMP Farm
Echofarm
Focusrite
Waves SSL ,Gold and Restoration
and much, much more...